Written by Angela Akers
December 30, 2022
As one year comes to a close, a new year full of opportunities begins. Our mission here at VectorVest is to provide the best stock market guidance available anywhere at any price. Our top priority is to help investors consistently make money in the stock market year in and year out. One of the things that VectorVest does in pursuit of our mission is to kick off the New Year with our Tampa Two-Day Investment Seminar. We've been doing this every year since 1999 and this year is no exception. We'll be in Tampa next week. If you haven't already done so, I urge you to, at the very least, sign up for the Tampa Two-Day Livestream. It is at no cost to you, please CLICK HERE to register!
Let's talk about why you should make a point to attend this seminar. Every January, we make a point to have something new and exciting for our subscribers. In the past, we have introduced everything from new VectorVest tools to new VectorVest Trading Systems. Last January at Tampa, we introduced a new Trading System called "Chappell's Champs Goes Ballistic." Because VectorVest truly believes that having a trading plan is vital to your success as an investor, we never stop working on creating consistent, money-making trading plans for you. Current market conditions included, ie. rampant inflation, high interest rates, economic fears, etc.
What we have found over the years is that the two biggest obstacles investors face are time and emotion and, this year, I have to admit, it has been hard not to be emotional. But that is exactly what trading plans are for, saving time and mitigating emotional trading decisions. All of our Trading Systems detail When to Buy (or when not to buy), What to Buy and When to Sell. There's never a decision to make once you have the plan, you just execute from there on out. We house several trading plans in our Trading System Viewer which you can find under the Viewers tab of the VectorVest 7 software. When you click on the Trading System Viewer, a spreadsheet of trading systems come up that show you the name of the trading system, the investment category (Prudent, Conservative, Aggressive), the Market Timing System used, the 1 Month, 3 Month and 1 Year performance, a 1 Year performance graph, the year-to-date (YTD) gain, the annual rate of return (ARR) and the 1 Year Drawdown.
When clicking on any Trading System, you can click the Trading System Details box at the top left of the Viewer (or through the right click menu) and a new window appears that provides you with all the information that you need to know about the Trading System's performance and its plan. It shows you a graphical representation of its performance and statistics on its 1 Month, 3 Month, 6 Month, Year to Date, 1 Year, 3 Year and All Time performance and Current Holdings. You can also click on Trading System Rules on the upper right of this page and see all the Rules for the Trading System, whether in an Up or Down market. Let's take a look at the Trading System Statistics for the "Chappell's Champs Goes Ballistic" system we released last year at the Tampa Two-Day Investment Seminar.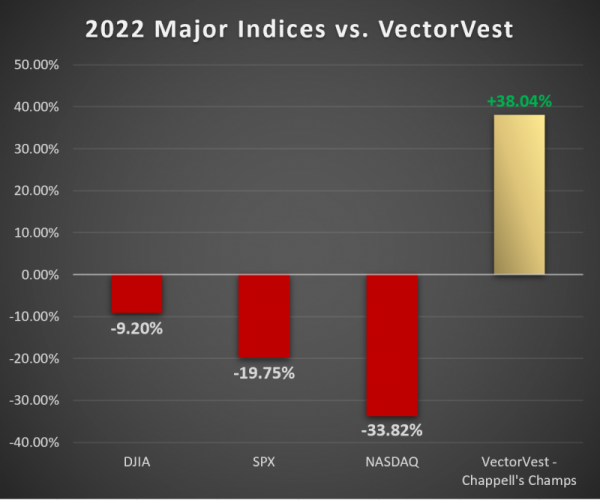 The results show that as of December 29, 2022, the system is down 5.47% over the last month and 5.19% over the last 3 months. OK, it has struggled over the last 3 months, BUT it is up 22.15% over the last six months, up 38.04% year to date, 35.75% over 1 year, 487.35% over the last 3 years and up 658.62% since we began tracking the system on January 4, 2019. Let's see how those results compare to the Major Indices and the Price of the VVC over these same time periods.

So, its 1 Month loss still outperformed the Nasdaq and S&P500, but the system did fall short over the last three months. Over the long-term though, from the 6 month period to the nearly 4 years we have been tracking it, it beat the pants off the Major Indices and the VVC. Therein lies the key. A winning trading plan is one that, over the long-term, consistently makes more money than it loses and beats the market time after time.
If you attended Tampa last year, I hope you took the opportunity to use the Chappell's Champs Goes Ballistic Trading System and were able to make that 38% this year. At the 2023 Tampa Two-Day Investment Seminar, we will be releasing another spectacular Trading System using the Near Perfect Indicator that was introduced earlier this year. It's going to knock your socks off! Do yourself a favor, attend our Tampa Two-Day Livestream and Start Your New Year Off Right!
Want These Types of Insights at Your Fingertips so You Can Win More Trades?
Use VectorVest to Analyze any stock free. VectorVest is the only stock analysis tool and portfolio management system that analyzes, ranks and graphs over 18,000 stocks each day for value, safety, and timing and gives a clear buy, sell or hold rating on every stock, every day.
Before you invest, check VectorVest! Click here to ANALYZE ANY STOCK FREE and see our system in action!