Amgen, a company known for pioneering modern biotechnology, has released information indicating they will be increasing the dividend from what was paid out last year. Executives stated that the payment will be $2.13 – which is 3.2% of the stock price. 
Compared to the industry average for dividend payouts, this is quite impressive. But is it really worth buying AMGN just for the dividend alone? While an increase in dividend payout is great, what matters more to long-term investors is the sustainability of these payouts. 
We can take a look back at the company's history of paying dividends and see that they've got a solid track record. Back in 2013, Amgen paid out $1.44. The total annual payout recently was $8.52. When looking at each consecutive year along that window, you'll see a nice 19% compound annual growth rate – showing that Amgen dividends have continued to trend upward without any sort of dips. This suggests that they can continue to do so reliably in the future.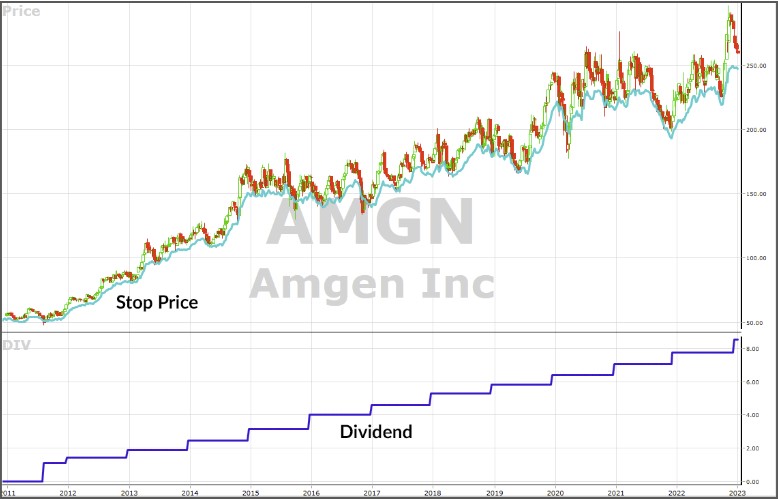 With that said, analysts are suggesting that the modest 2.8% earnings growth over the past 5-years points to a problem within the company. This isn't enough for them to allocate toward meaningful investment opportunities, so they simply return the funds to shareholders. 
And as we head into what many experts are calling a recession, there's no telling how Amgen will fare. Will the dividends continue after weathering 2023 and beyond? 
If you're here to determine whether now is the right time to buy AMGN, you're in luck. Below, we'll highlight three key ratings you need to account for when making your decision – through the VectorVest stock analysis software. Better yet, you'll discover a clear buy, sell, or hold recommendation for AMGN.
AMGN Has Fair Upside Potential & Timing With Good Safety – But is it Enough to Justify a Buy?
The VectorVest system transforms the way you uncover and assess opportunities in the stock market, as you're told exactly what to buy, when to buy it, and when to sell it. Instead of relying on complex, time-consuming approaches to technical analysis, you can just utilize three simple ratings. These are relative value (RV), relative safety (RS), and relative timing (RT).
These ratings are easy to interpret as they sit on a scale of 0.00-2.00. 1.00 is the average, and ratings trending above the average indicate overperformance in a given category – and vice versa. Based on these ratings, VectorVest is able to provide you with a clear buy, sell, or hold recommendation. Here's the current situation for AMGN:
Fair Upside Potential:

The RV rating assesses a stock's long-term price appreciation potential, projected 3 years out and compared to AAA corporate bond rates and risk. As for AMGN, the RV rating of 0.97 is just fair. With that said, the stock

is

overvalued at the current price point – with a current valuation of just $199.67

.
Good Safety:

In terms of risk, AMGN is trending above the average and shows a good safety rating – with an RS rating of 1.19. This is calculated based on the company's financial consistency and predictability, debt-to-equity ratio, and business longevity

.
Fair Timing:

Right now, the timing for AMGN is just fair with an RT rating of 0.95. This is just below the average and suggests a slight downward trend pushing the stock's price down. This is in line with what we've seen over the past month, as the stock has dropped 8% in that time. This rating is based on the direction, dynamics, and magnitude of a stock's price movement – taken day over day, week over week, quarter over quarter, and year over year

.
All this works out to an overall VST rating of 1.04 – which is fair. Is it enough to earn AMGN a buy, though? Or should you hold on a bit longer to see the price trend turn around and head in the right direction? Get a free stock analysis here to eliminate any guessing games or emotions from your decision-making.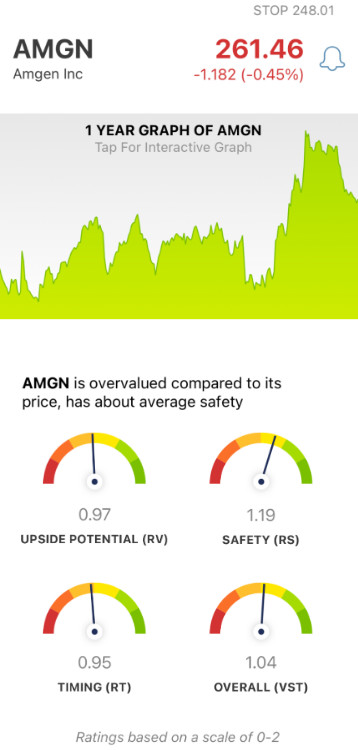 Want These Types of Insights at Your Fingertips so You Can Win More Trades?
Use VectorVest to Analyze any stock free. VectorVest is the only stock analysis tool and portfolio management system that analyzes, ranks and graphs over 18,000 stocks each day for value, safety, and timing and gives a clear buy, sell or hold rating on every stock, every day.
VectorVest advocates buying safe, undervalued stocks, rising in price. As for AMGN, it is overvalued with fair upside potential and timing but does have good safety
Before you invest, check VectorVest! Click here to ANALYZE ANY STOCK FREE and see our system in action!