Anytime insiders within a company start selling off their shares it will raise eyebrows. But when a group of insiders does it – including the president and CFO, it's worth paying attention to. And that's exactly what's happening right now within the Coca-Cola Company (KO).
Over the past year, KO has performed very well – better than the majority of publicly traded companies. The stock sits 7% higher from this time last year. So – why are key players within the company offloading their shares? Some analysts are suggesting this could point to an upcoming downturn for the company – along with the economy as a whole.
Take President & CFO John Murphy, for example. He made the biggest sale of KO stock in the last year, offloading $3.3 million in company stock – at a price below what the stock was trading at. Now – this is obviously something that investors should pay attention to, but it's worth noting that Murphy still maintains a large chunk of his position – and there are a multitude of reasons he may have needed to free up some cash.
However, he wasn't the only insider dumping the stock despite good performance. Nancy Quan, the Vice President, and Chief Technical & Innovation Officer, underwent a sale of her own. She offloaded about $840k in shares over the past year. 
Analysts are using the data surrounding insider sales to suggest something isn't right within the Coca-Cola Company. Do they know something we don't? Or, is it just a coincidence? 
As of right now, KO is still reporting growing profits and appears to be on the up-and-up. So – before you act emotionally and sell off your shares out of caution, take a look at these three things we've identified through the VectorVest stock analysis software.
Despite The Concern Over Insider Sales, KO Displays Fair Upside Potential and Safety With Good Timing
The VectorVest system simplifies trading for investors by telling you everything you need to know about a stock in just three ratings. These are relative value (RV), relative safety (RS), and relative timing (RT). 
Interpreting these ratings is quick and easy, as they sit on a scale of 0.00-2.00. With 1.00 being the average, anything over that figure indicates good performance – and vice versa. The higher the number the better. But to make things even easier, VectorVest provides a clear buy, sell, or hold recommendation for any given stock at any given time – based on these ratings. As for KO, here's the current situation:
Fair Upside Potential:

The RV rating compares a stock's long-term price appreciation potential 3 years out to AAA corporate bond rates and risk. As for KO, the RV rating of 0.91 is fair. However, the stock is overvalued at the current price point. The current value is just $36.79

.
Fair Safety:

Taking a look at risk, KO appears to be fairly safe with an RS rating of 0.91. This is calculated from an analysis of the company's financial consistency & predictability, debt-to-equity ratio, and business longevity

.
Good Timing:  

Finally, KO has good timing right now – with an RT rating of 1.15. This suggests a positive price trend has formed, as the rating is calculated based on the direction, dynamics, and magnitude of a stock's price movement. It's analyzed day over day, week over week, quarter over quarter, and year over year – offering the full view to investors

.
All this works out to a good overall VST rating of 1.01. So – does that mean it's actually time to buy KO stock? OR, is now actually the time to sell your shares and follow suit with the Coca-Cola Company insiders? Don't play the guessing game or let emotion influence your decision-making. Get a clear answer on your next move with a free stock analysis today.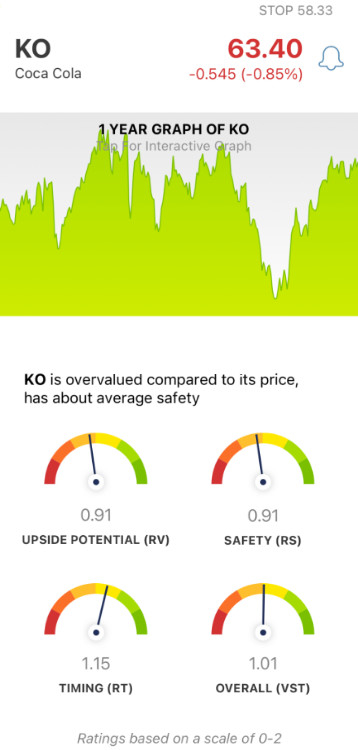 Want These Types of Insights at Your Fingertips so You Can Win More Trades?
Use VectorVest to Analyze any stock free. VectorVest is the only stock analysis tool and portfolio management system that analyzes, ranks and graphs over 18,000 stocks each day for value, safety, and timing and gives a clear buy, sell or hold rating on every stock, every day.
VectorVest advocates buying safe, undervalued stocks, rising in price. As for KO, it is overvalued but has fair upside potential and safety, along with good timing.
Before you invest, check VectorVest! Click here to ANALYZE ANY STOCK FREE and see our system in action!