While others enjoyed the usual lull of returning to normalcy after the holidays, many were stranded in airports around the country due to mass cancellations by Southwest Airlines (LUV). Historically, Southwest has been an industry leader in aviation – but today, the stock has taken a nosedive, dropping almost 6% Tuesday morning.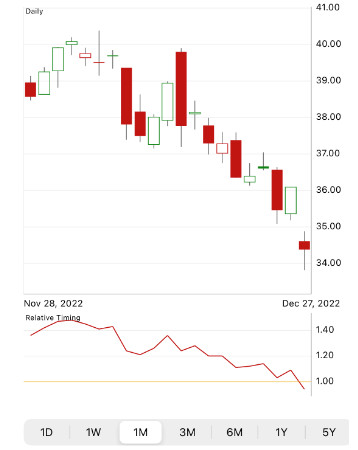 These cancellations are the result of winter storms throughout parts of the country – which affected airlines beyond Southwest. So why are they taking all the heat? The degree of cancellations Southwest in particular is facing is far more substantial. Nearly 70% of the company's flight schedule was canceled Monday, while 60% was canceled on Tuesday. It looks as if Wednesday will be more of the same.
While Southwest appears to be struggling operationally to restore their service, Delta, American, United, and other airlines have been able to coordinate personnel far faster. A few issues can be attributed to this. For one, Southwest equipment is not equipped to operate in the conditions faced right now. Secondly, Southwest was unable to coordinate with pilots and crew members to restore service where needed.
This isn't just a public relations nightmare for the airliner, either. The US Department of Transportation will get involved to evaluate the treatment of dislocated customers – as it appears more of the issue was Southwest's operational capabilities – not just the weather.
And while this is certainly a disaster for Southwest, it appears the storm within the company is far from over. Experts expect delays and cancellations to extend well into the new year.
From an investor standpoint, is this just a temporary blip on the radar? Should you hold your position to see how Southwest recovers? Or is there a reason to sell off shares now? Get a clear answer below as we assess LUV stock through the VectorVest stock forecasting system.
LUV Still Has Excellent Upside Potential, Along With Fair Safety & Timing
VectorVest simplifies trading by telling you everything you need to know about a stock in just three easy-to-understand ratings. These are relative value (RV), relative safety (RS), and relative timing (RT). Interpreting these ratings is straightforward as they sit on a scale of 0.00-2.00 – with 1.00 being the average. Ratings over 1.00 indicate overperformance in a given category and vice versa.
Together, they make up the overall VST rating for a stock – and dictate whether VectorVest offers a clear buy, sell, or hold recommendation. That's right – no more guessing games, no more emotional decision-making. Just follow the VectorVest system and win more trades with less work! Here's the current situation with LUV:
Excellent Upside Potential: Looking at the long-term price appreciation potential for LUV, there is still a lot to be excited about. The RV rating of 1.50 is excellent – and the stock is undervalued at the current price of $34.36. The current value is $49.10.
Fair Safety: In terms of risk, LUV is fairly safe – and the RS rating of 0.92 reflects that. This rating is calculated from an analysis of a company's financial consistency and predictability, debt-to-equity ratio, and business longevity.
Fair Timing: While the news cycle is negative for LUV, the stock's price trend hasn't taken nearly as much of a hit as one would suspect. The timing is still fair with an RT rating of 0.93. This is calculated based on the direction, dynamics, and magnitude of the stock's price movement day over day, week over week, quarter over quarter, and year over year.
All things considered, the overall VST rating for LUV is good at 1.12. Does that mean you should buy more shares at this lower price point? Or, is it simply a time to sit on your position and see what happens in the coming days? No need to wonder any longer – get a clear answer through our free stock analyzer here.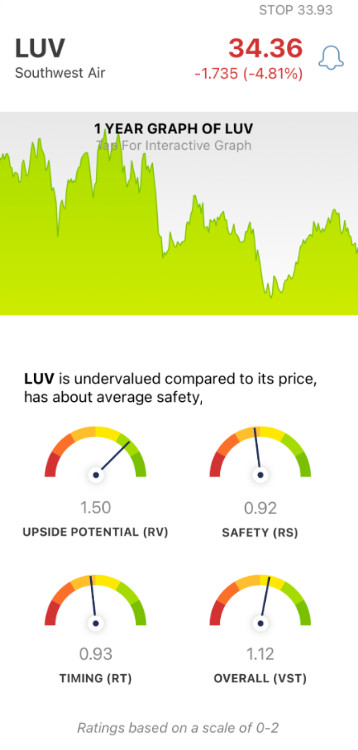 Want These Types of Insights at Your Fingertips so You Can Win More Trades?
Use VectorVest to Analyze any stock free. VectorVest is the only stock analysis tool and portfolio management system that analyzes, ranks and graphs over 18,000 stocks each day for value, safety, and timing and gives a clear buy, sell or hold rating on every stock, every day.
VectorVest advocates buying safe, undervalued stocks, rising in price. As for LUV, it is undervalued with excellent upside potential, fair safety, and fair timing.
Before you invest, check VectorVest! Click here to ANALYZE ANY STOCK FREE and see our system in action!