It's been a rough year for the largest e-commerce company in the world, Amazon. Share prices today have fallen to record lows over the past three years, down to just $82/share. As the company sits over 50% lower today than it did this time last year, things are changing structurally for Amazon.
The company has done a deep review of its different segments and plans on cutting unprofitable businesses while going all in on what's working for them. One segment that the company is particularly high on is sports streaming.
Recently, the CEO of Amazon Andy Jassy highlighted live sports as an area of the business that will see continued spending as other areas deal with cost cuts.
Investing in streaming – in general – is something Amazon has been doing for some time, as their Prime Video streaming unit seeks to compete with the likes of Netflix, Hulu, and other streaming giants. So far, though, it's struggled to gain traction. Thus, the decision to heavily invest in sports streaming, niching down.
We've seen this effort manifest itself in a $1b deal with the NFL, as Amazon is the exclusive broadcaster of Thursday Night Football. But just how far will Amazon be able to take sports streaming? And is it really going to result in the turnaround the company is so desperate for right now?
This all remains to be seen. What we do know is that the goal is for the segment to have its own standalone app. And, there is no anticipated date for when this app would be released – or whether it will ever actually exist. Right now, all we can do is speculate. However, we do have some good news.
Investors who are currently in Amazon stock – or those who are assessing a potential opportunity to buy in at great value – can still gain key insights through the VectorVest stock forecasting tools. If you are looking for a clear buy, sell, or hold recommendation – keep reading.
Right Now, AMZN Has Very Poor Upside Potential & Timing Holding it Back
The VectorVest system simplifies trading by telling you exactly what to buy, when to buy it, and when to sell it. No more guesswork, no more emotion clouding your decision-making. Just follow the system and win more trades!
You're given all the information you need to make accurate, informed decisions with just 3 ratings: relative value (RV), relative safety (RS), and relative timing (RT). These are easy to understand as they sit on a simple scale of 0.00-2.00 – with 1.00 being the average. By picking stocks with ratings above the average, you can set yourself up for success. As for AMZN, here's the current situation:
Very Poor Upside Potential: In taking a look at the long-term price appreciation potential 3 years out compared to AAA corporate bond rates and risk, there isn't much to be excited about for Amazon. In fact, the RV rating of 0.22 is very poor. And while the stock does sit at a very low price point today, it's still overvalued – with a current value of just $11.68.
Good Safety: The one thing AMZN has going for it is its low risk. After all, this is the largest e-commerce company on the planet. The RS rating of 1.10 is good, calculated based on the company's financial consistency and predictability, debt-to-equity ratio, and business longevity.
Very Poor Timing: AMZN stock price is experiencing a lot of downward pressure right now – and the very poor RT rating of 0.49 reflects that. It's calculated based on the direction, dynamics, and magnitude of a stock's price movement – taken day over day, week over week, quarter over quarter, and year over year.
All things considered, the overall VST rating of 0.71 is poor. Does that mean you should sell your shares now and cut your losses – or should you hold on a bit longer for better days? Get a clear answer on your next move with a free stock analysis.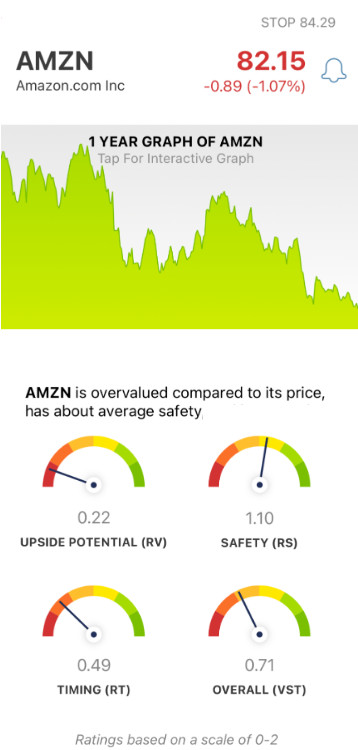 Want These Types of Insights at Your Fingertips so You Can Win More Trades?
Use VectorVest to Analyze any stock free. VectorVest is the only stock analysis tool and portfolio management system that analyzes, ranks and graphs over 18,000 stocks each day for value, safety, and timing and gives a clear buy, sell or hold rating on every stock, every day.
VectorVest advocates buying safe, undervalued stocks, rising in price. As for AMZN, it is overvalued with very poor upside potential and timing, but it does have good safety.
Before you invest, check VectorVest! Click here to ANALYZE ANY STOCK FREE and see our system in action!