Early this morning AMC stock plummeted 25% in pre-market trading before settling around a 12% loss by 11:30 AM EST. This came after a press release from the entertainment company announcing a $110 million equity capital raise along with a proposed reverse stock split.
There are quite a few moving pieces to the equity capital raise deal struck between AMC and Antara - a current AMC debt holder. The end goal, however, is to reduce $100 million worth of debt from AMC's balance sheet. The reverse stock split seeks to raise the value of an AMC share by 10x. Decreasing the number of outstanding shares in the market will make AMC a more attractive option to institutional investors.
Both of these plays appear to be positive things on the surface level - as AMC will have greater liquidity and a more sound balance sheet. So what sent shares off a cliff upon the release of this news? Retail investors responded poorly to the possibility of their shares being diluted.
And, this is just the latest in the treacherous saga for AMC - a company that's been bleeding millions of dollars every quarter for the past few years. It's been said that movie theaters are a dying breed, and AMC is certainly fighting an uphill battle in that regard. After today's news, the stock sits almost 75% lower than it did this time last year.
When taking a look at AMC through the VectorVest stock forecasting software, there are 3 key issues we see beyond today's news. If you're wondering if it's finally time to call it quits on AMC, keep reading…
Very Poor Upside Potential & Timing, With Poor Safety to Boot
The VectorVest system transforms the way you uncover and assess opportunities in the stock market. With just three easy-to-understand ratings, you're given all the information you need to make accurate, emotionless decisions based on tried-and-true investment principles.
These ratings are relative value (RV), relative safety (RS), and relative timing (RT). They sit on a scale of 0.00-2.00 with 1.00 being the average - making it easy to interpret and make decisions. But to make things even easier, VectorVest actually provides a clear buy, sell, or hold recommendation based on these ratings. Here's the current situation with AMC through the VectorVest lens:
Very Poor Upside Potential: In looking at a comparison of AMC's long-term price appreciation potential (3 years out), AAA corporate bond rates, and risk, it doesn't bode well. As a result, the RV rating for AMC is 0.35 - which is very poor.
Poor Safety: An indicator of risk, the relative safety rating analyzes a company's financial consistency and predictability, debt-to-equity ratio, and business longevity. As for AMC, the RS rating of 0.63 is poor.
Very Poor Timing: Finally, the price trend we're witnessing for AMC is very poor - and the RT rating of 0.30 reflects that. This rating analyzes the direction, dynamics, and magnitude of a stock's price movement. It's calculated day over day, week over week, quarter over quarter, and year over year.
These 3 ratings contribute to an overall VST rating of just 0.45 - which is very poor. Does that mean it's officially time to cut losses and sell your shares of AMC for whatever you can get? Through our free stock analyzer, you can gain a clear buy, sell, or hold recommendation right now for AMC.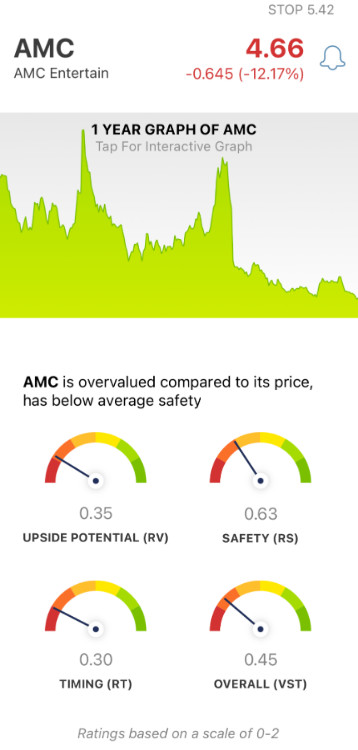 Want These Types of Insights at Your Fingertips so You Can Win More Trades?
Use VectorVest to Analyze any stock free. VectorVest is the only stock analysis tool and portfolio management system that analyzes, ranks and graphs over 18,000 stocks each day for value, safety, and timing and gives a clear buy, sell or hold rating on every stock, every day.
VectorVest advocates buying safe, undervalued stocks, rising in price. As for AMC, it is overvalued with very poor upside potential, poor safety, and very poor timing.
Before you invest, check VectorVest! Click here to ANALYZE ANY STOCK FREE and see our system in action!